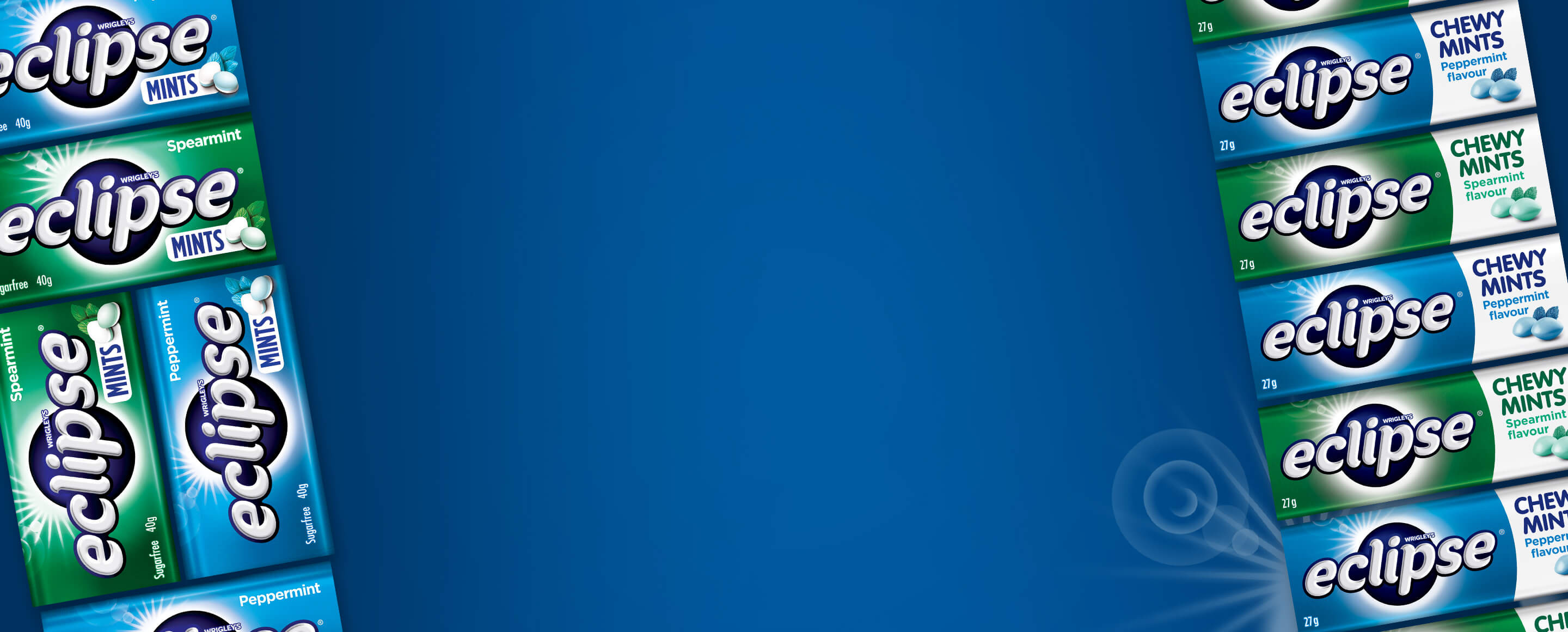 ABOUT ECLIPSE
INSIDE THE TIN
Proudly Australian made. Helping Australians connect since 1999.
Proudly Australian Made
The Mars Wrigley Company has been creating productions in Australia for more than a century, but ECLIPSE is a relative newcomer to our shores. Here's the story behind the mint that brings Australians together: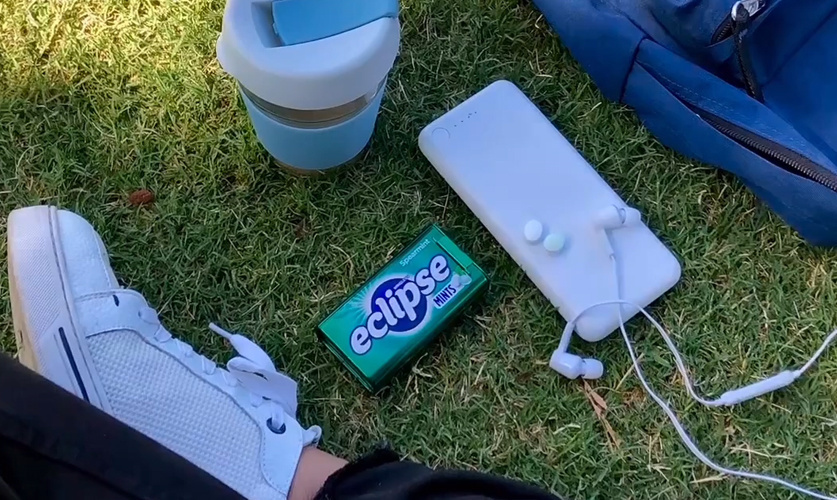 1999
Proudly made in Asquith, New South Wales, Australia, ECLIPSE mints has been bringing Australians together since 1999. Reminding Australians of the joy of making connections with other people, so much so, that ECLIPSE quickly became Australia's leading and most loved mint brand.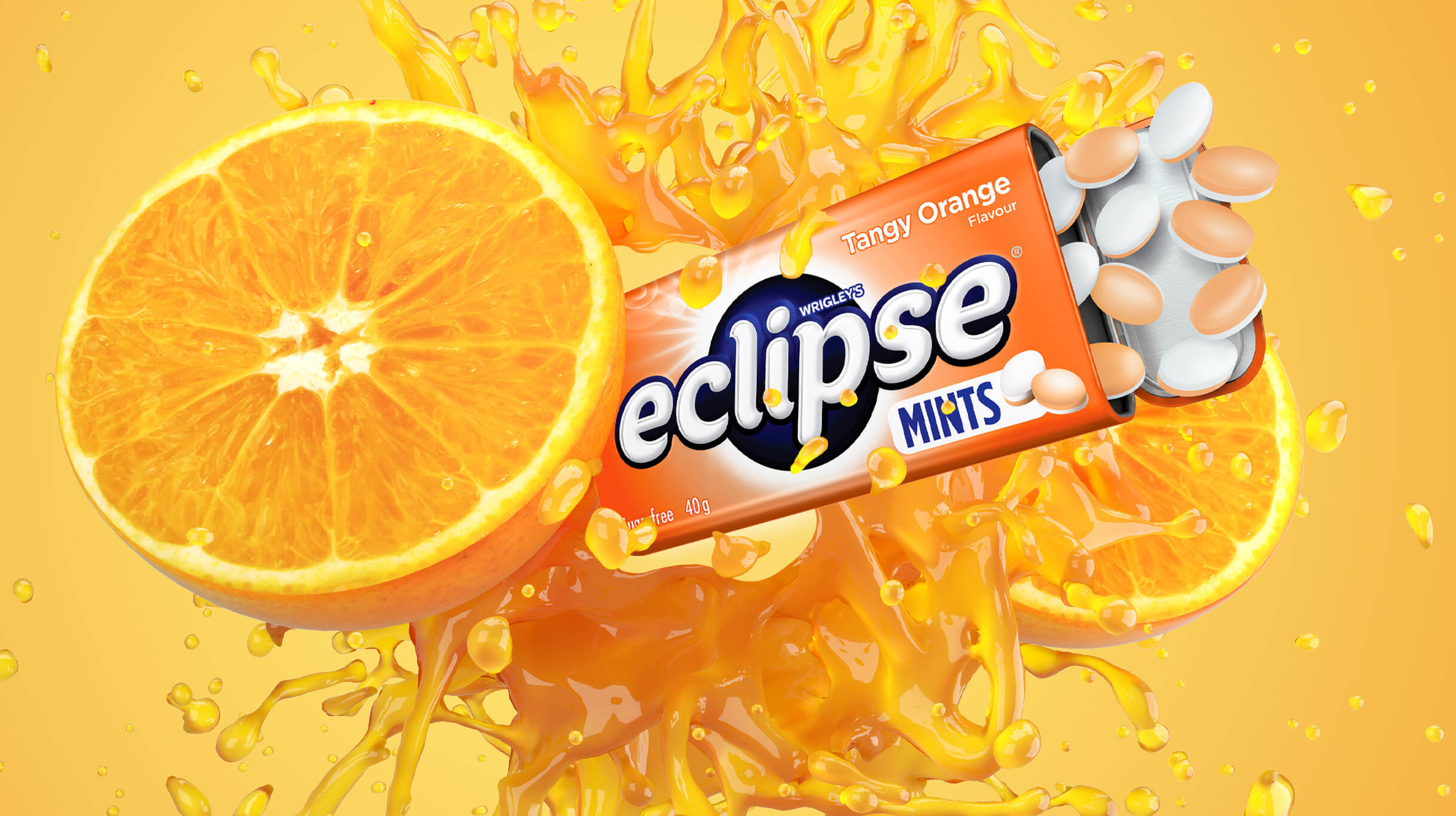 2009
While the original ECLIPSE Spearmint and Peppermint flavour were an Australian favourite, ECLIPSE knew Australians wanted more from their favourite mint brand. This led to the first ECLIPSE fruit flavour offering, Orange, hitting supermarket shelves and exciting ECLIPSE fans across Australia, attracting new ones, and fostering new connections. We're never boring!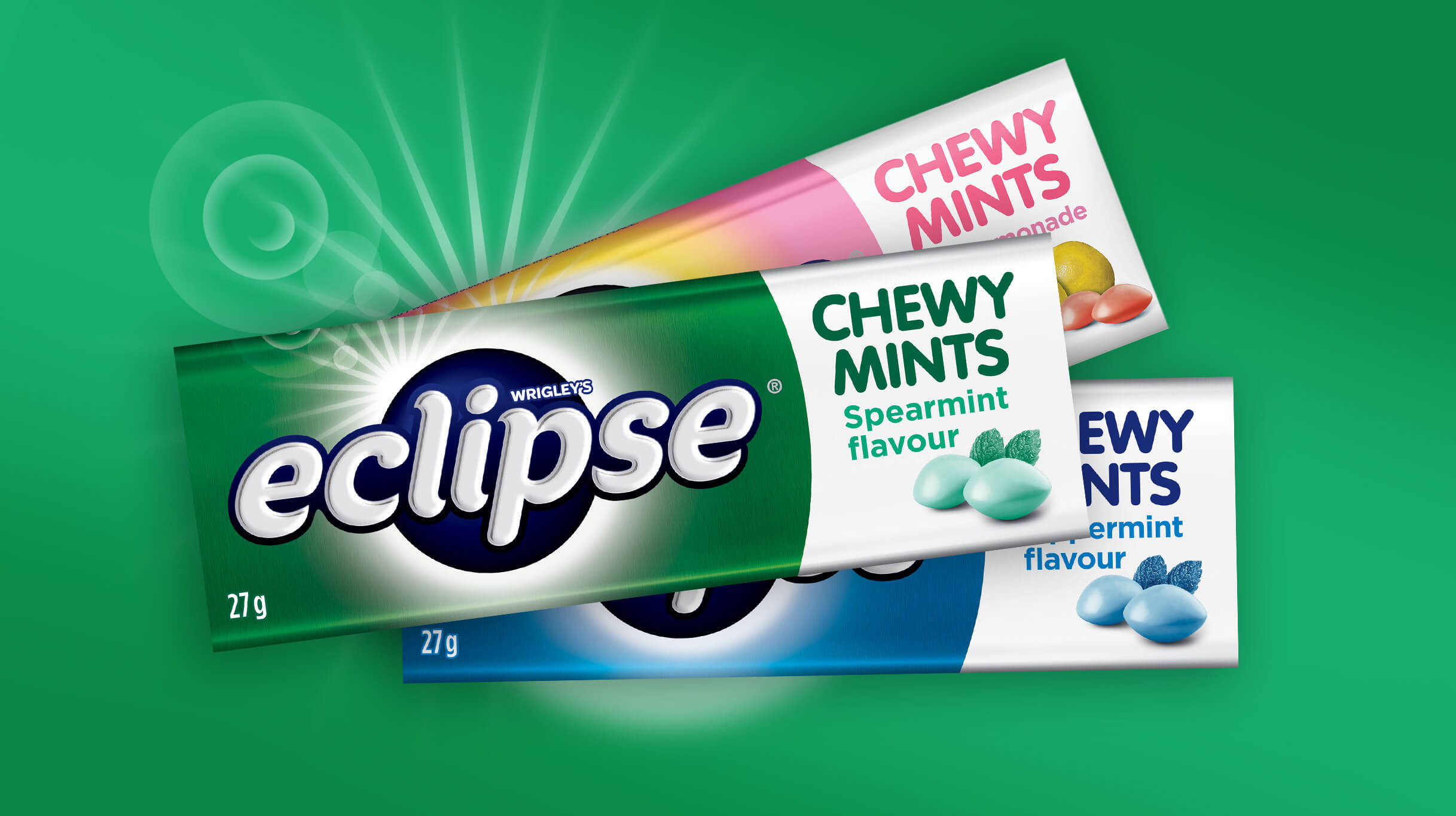 2010
Drum roll please….ECLIPSE Chewy Mints made its debut in Australia. It's an irresistible variation on our classic mint with the same refreshing taste, but with a unique shape and chewy texture that consumers fell in love with and continue to enjoy daily.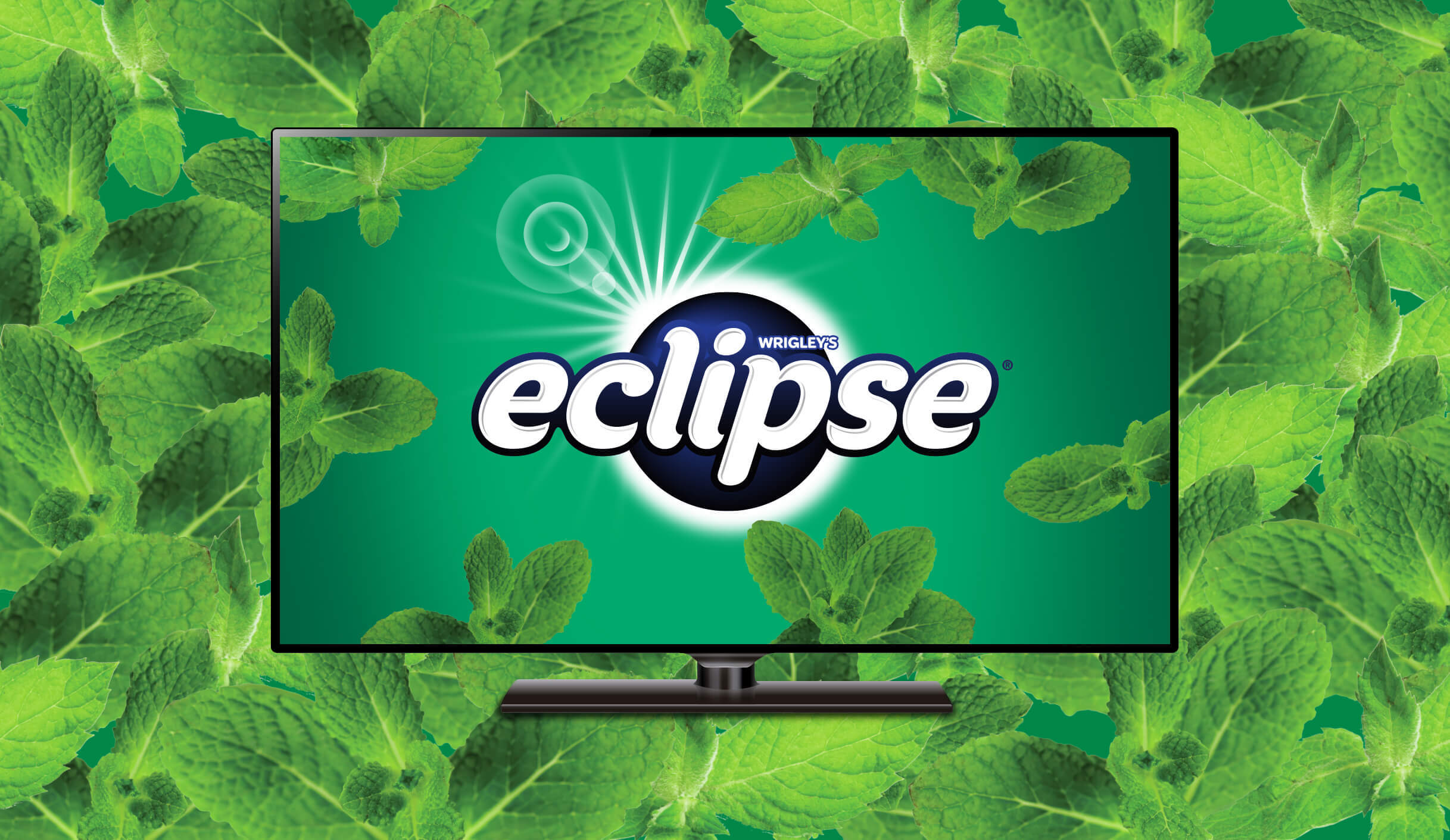 2010 – 2012
ECLIPSE made its screen debut with the Seriously Cold Breath TV commercial. Its second commercial, After Anything Mint, showed that ECLIPSE Mints give you Powerful Fresh Breath after anything from "abominable coffee breath'" to "funky fish breath", spreading the message about the instantly fresh breath ECLIPSE provides Australians in moments of connection.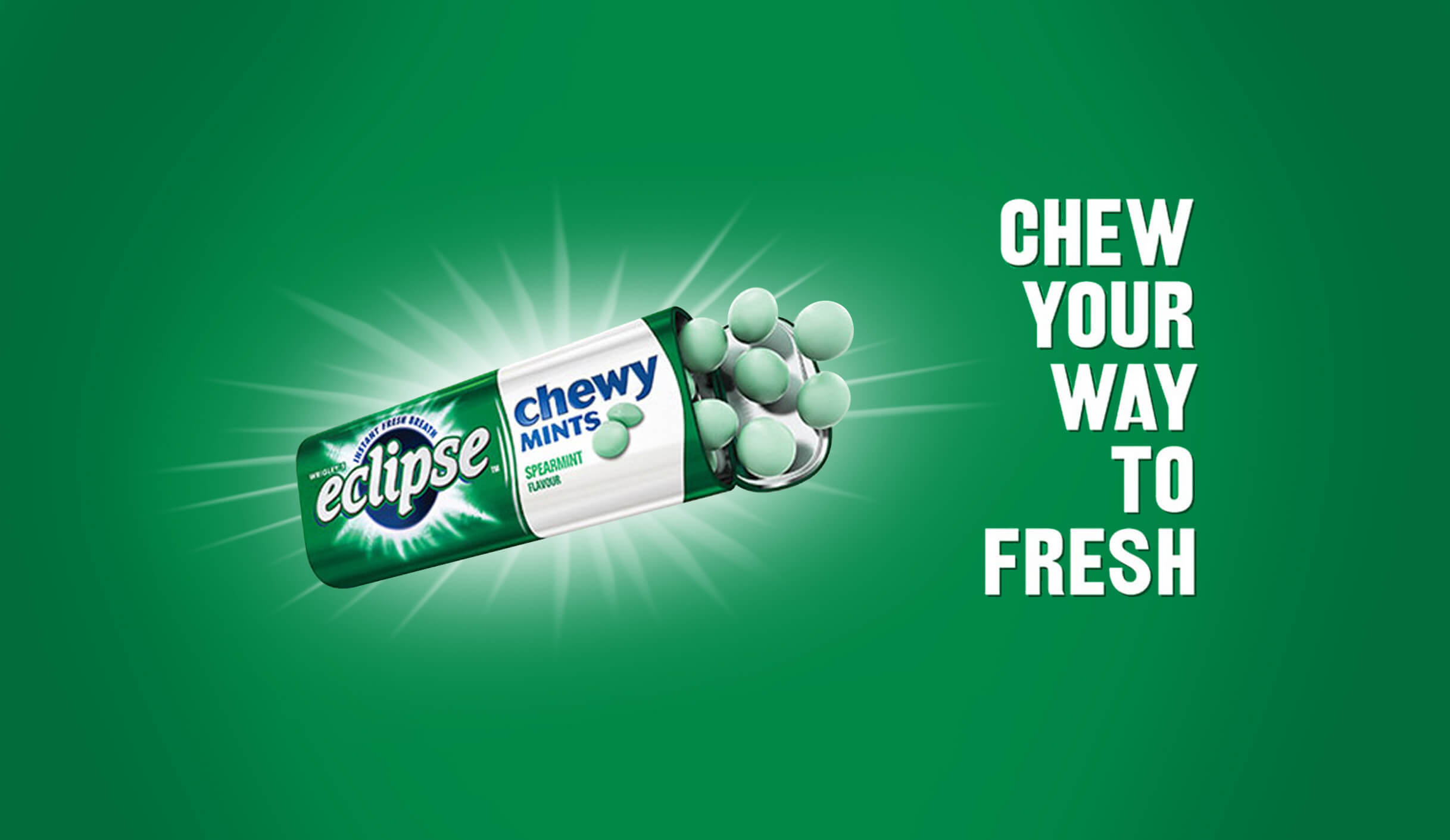 2012
ECLIPSE brand's tradition of unexpected and humorous advertising continued with the Chew Your Way to Fresh campaign, showing a couple going from glum to glam thanks to the freshness of ECLIPSE Chewy Mints.
2013
Australians' continuing enthusiasm for ECLIPSE flavours inspired us, and we decided to add fruit to our already popular Chewy products. Our first ECLIPSE Chewy fruit flavour offering, Fruit Trio, excited Australians everywhere and fostered a flurry of close connections.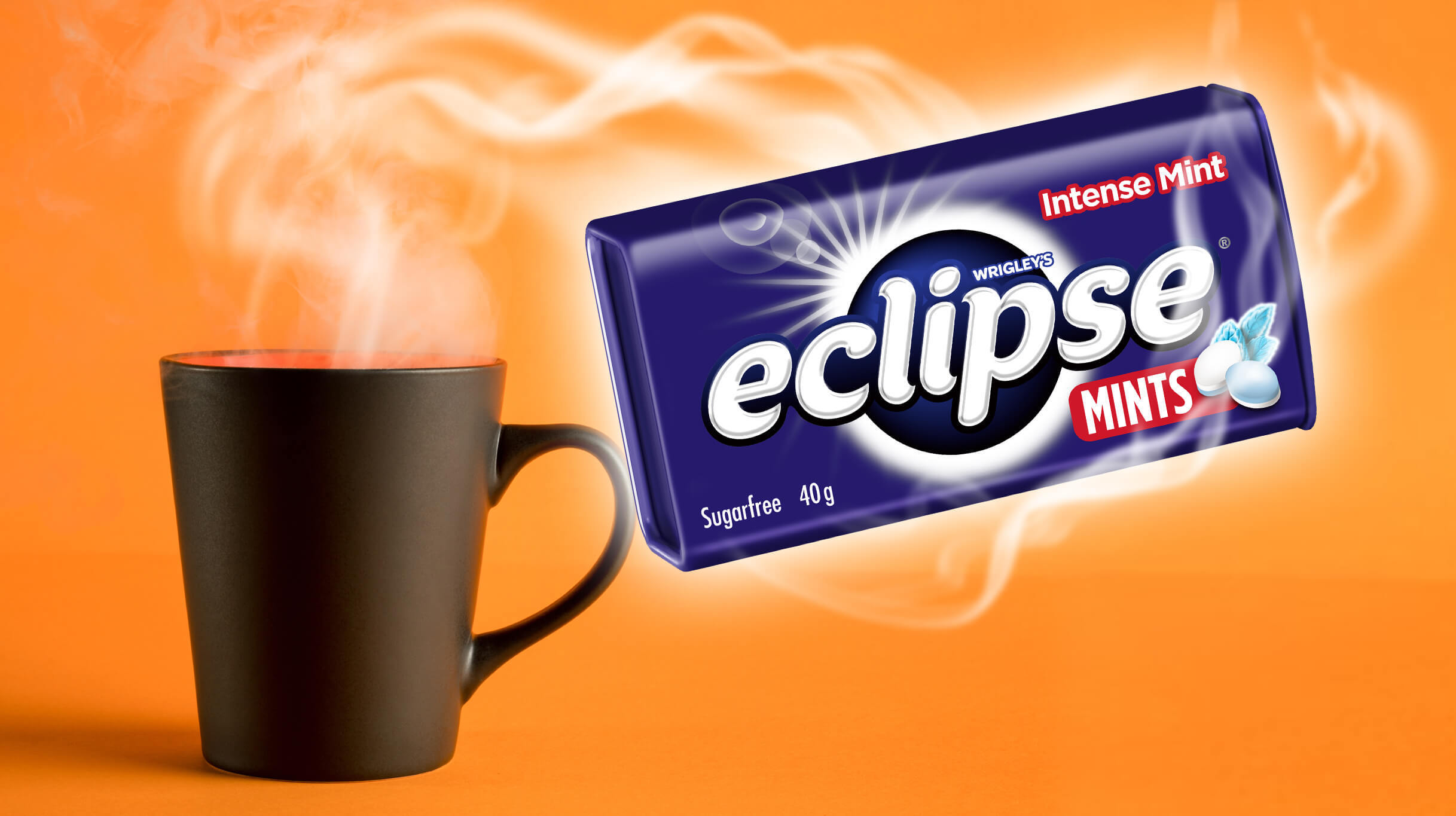 2017
ECLIPSE Intense Mint launched, giving Australians an intense burst of freshness to fight off that morning coffee breath. See ya, coffee breath!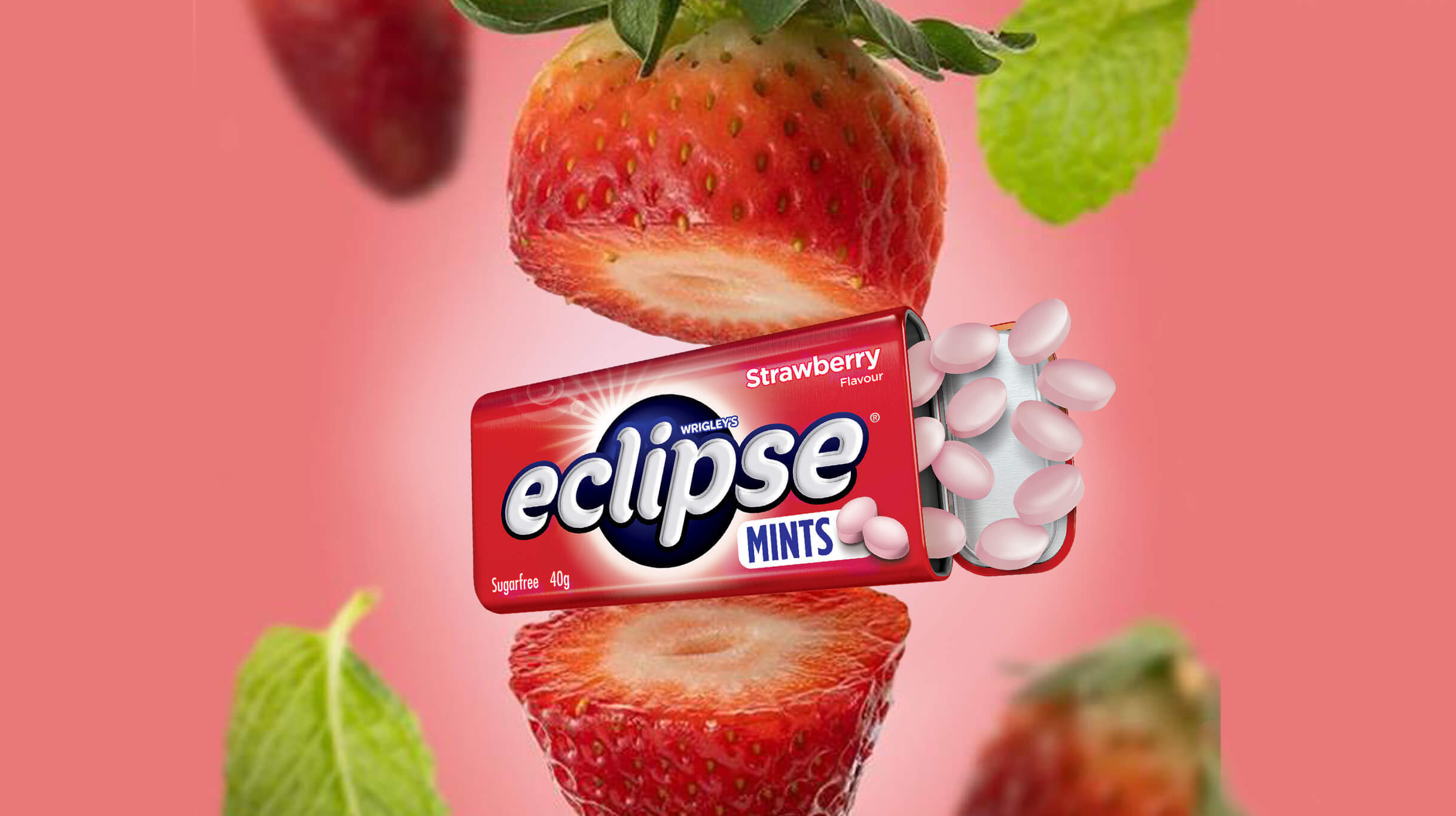 2019
ECLIPSE Mints launched new Share a Little More brand platform and campaign which aimed to inspire and celebrate real, authentic moments and the role that sharing a mint plays in creating a moment of connection. ECLIPSE also introduced some new varieties including ECLIPSE Mints Watermelon and ECLIPSE Mints Strawberry.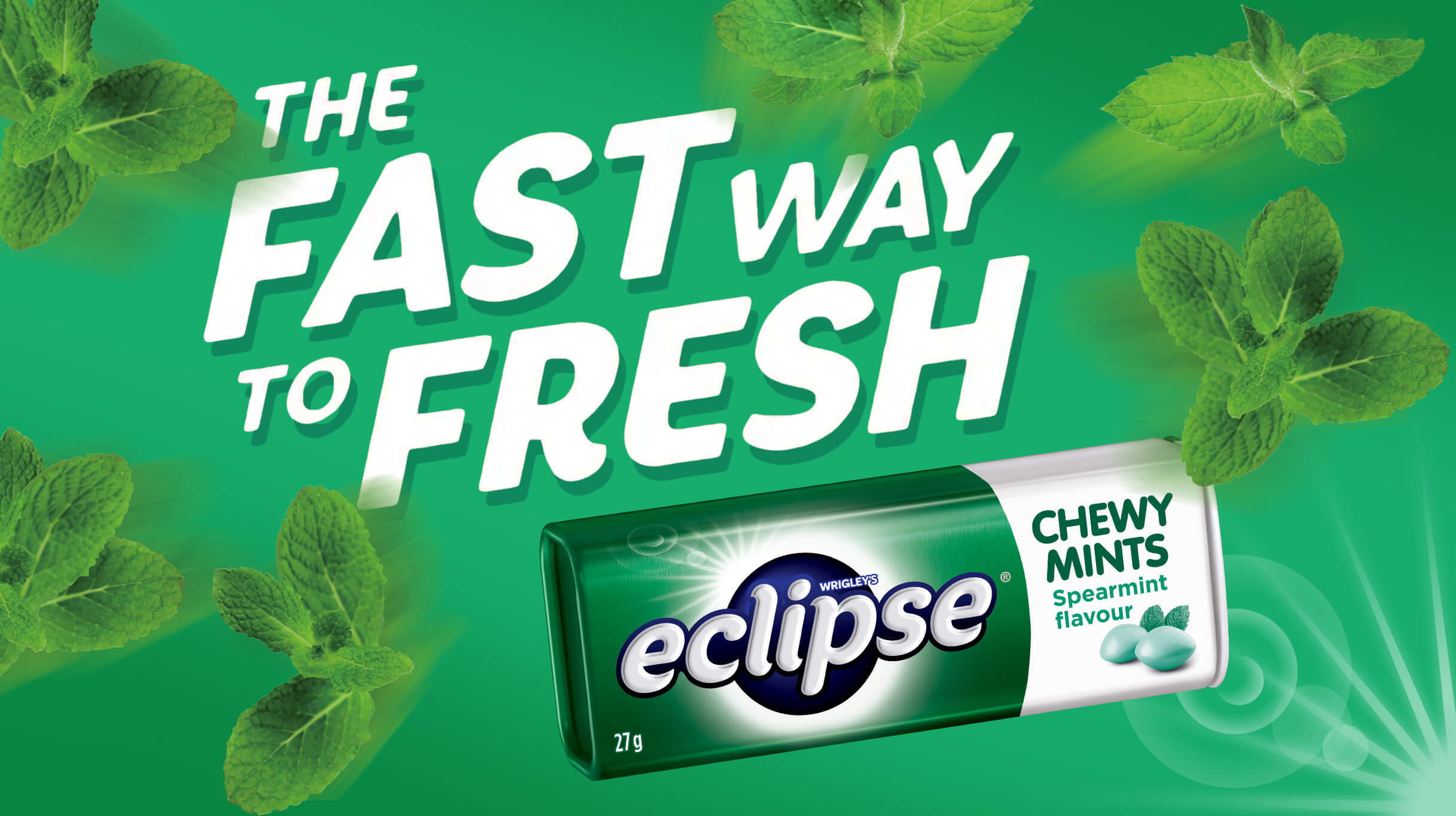 2020
Our Faster Way to Fresh campaign launched, and we continued to enrich our line-up with ECLIPSE Mixed Berry Flavour and Chewy Raspberry Flavour, satisfying our perverse desire to torture Australians with choices.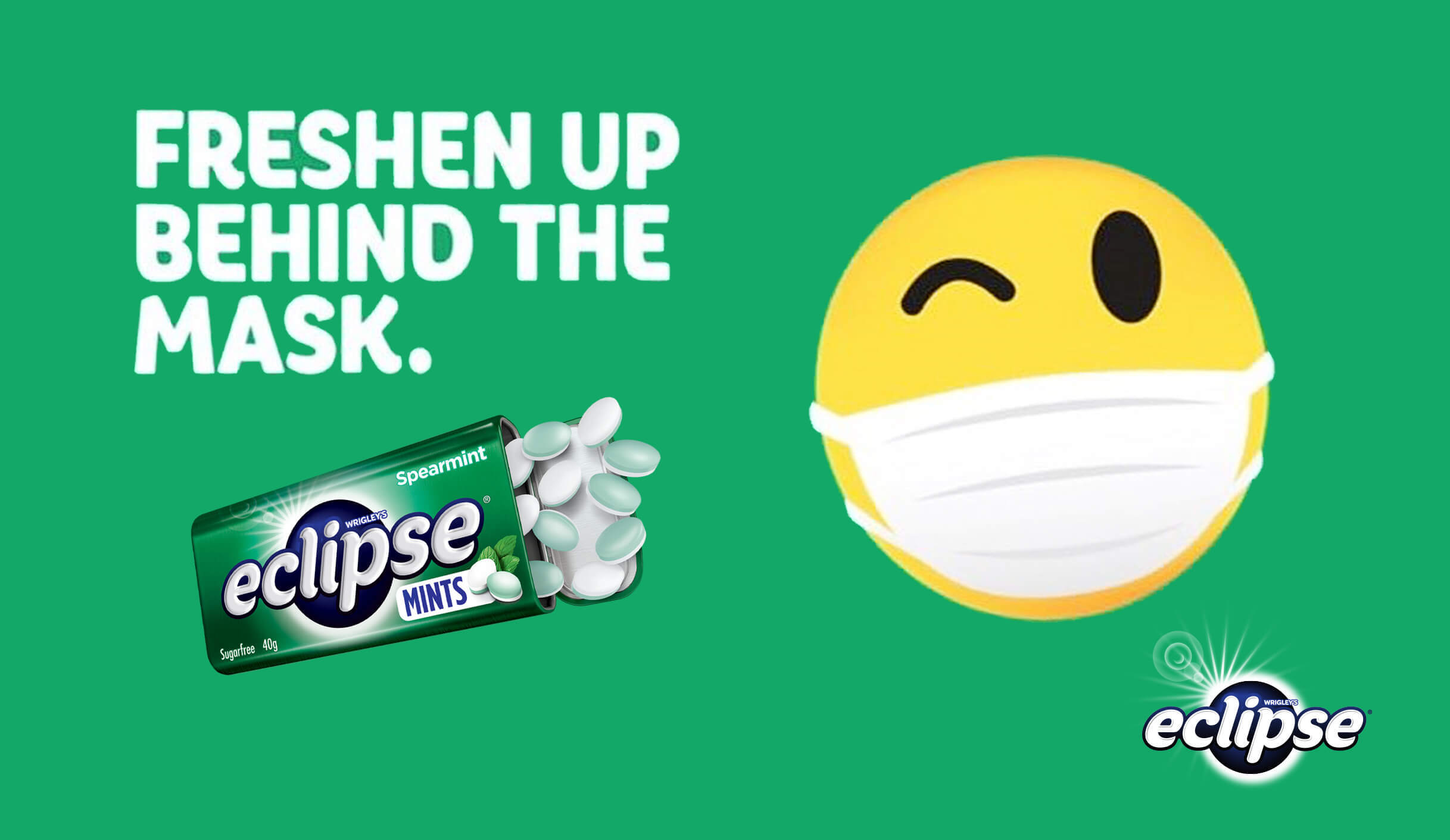 2020
ECLIPSE advises Victorians to fight "mask breath" with its mints during the COVID pandemic, helping Australians to feel their freshest during a challenging time.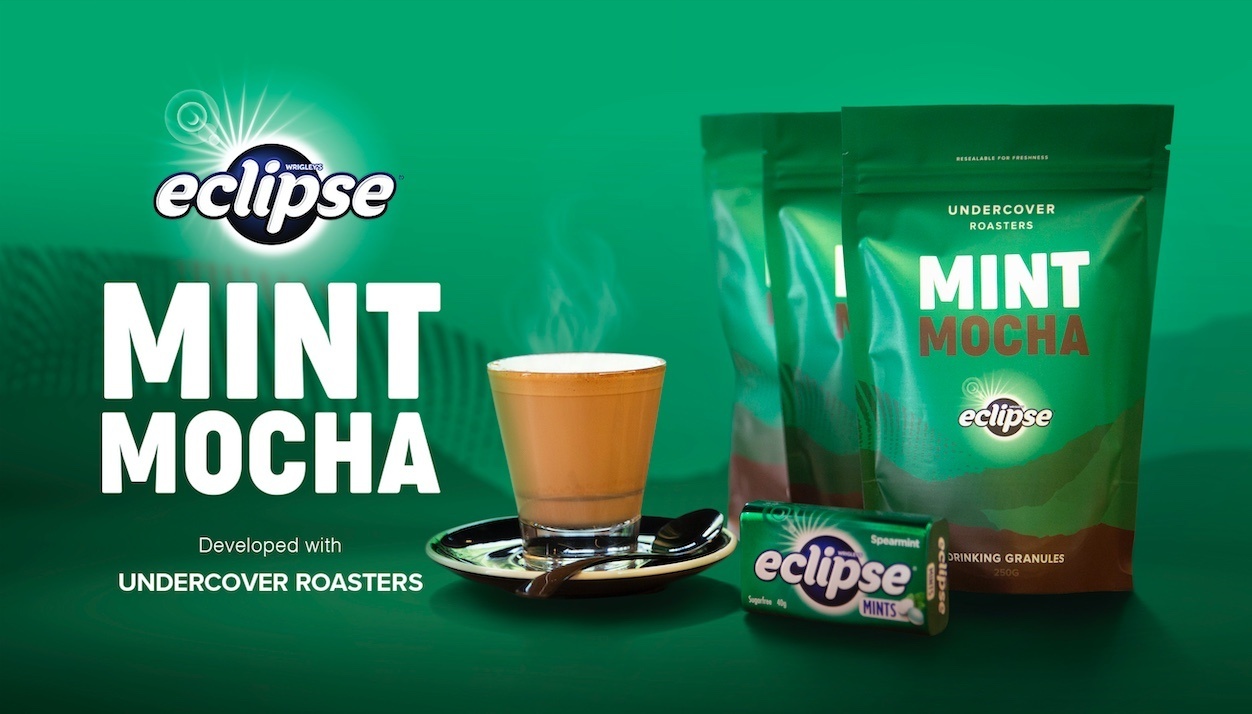 2021
ECLIPSE and Undercover Roasters unveiled the ECLIPSE Mint Mocha, the world's first coffee to leave you with fresh breath and preparing you for your daily connections. ECLIPSE also introduced some new fruit flavour varieties, ECLIPSE Mints Orange Flavour and ECLIPSE Chewy Mints Mango and Passionfruit Flavour.
2022
ECLIPSE Mints launched its new Let There Be Fresh brand platform and campaign which highlights ECLIPSE's role in facilitating connections. The two creative pieces illustrate the curious power of an ECLIPSE mint to make you feel fresh and the hero of the moment in the eyes of those around you as they draw closer, craving that same instant freshness. ECLIPSE also introduced some new fruit flavour variety, including ECLIPSE Chewy Mints Pink Lemonade Flavour.
2022
The new ECLIPSE PLUS range comes in two flavours, 'Comfort' and 'Release'. Both are expertly balanced with recognisable flavour blends to help Aussies "feel their way back to fresh". ECLIPSE PLUS Comfort gives the comforting feeling of a warm hug through a blend of honey, lemon and ginger flavour, while ECLIPSE PLUS Release features the much-loved mix of lemon, menthol and mint flavour. That's the power of ECLIPSE PLUS. Supporting this new sub-range, ECLIPSE launched a new Feel Your Way Back to Fresh campaign.